The health benefits of strawberries
It's difficult to resist a perfectly ripe strawberry, but did you know just how good they are for you? Nutritionist Jo Lewin shares the nutrition benefits of the bright red berry.
The strawberry, Fragaria, is one of the most popular berry fruits in the world. There are more than 10 species of Fragaria that differ in flavour, size and texture yet they all have the same characteristic heart-shaped, red flesh and seeded coat together with small, regal, leafy green caps and stems that adorn their crowns.
Did you know...
...strawberries are not actually fruits as their seeds are on the outside. Strawberry plants are runners and are not produced by seeds. They have an average of 200 seeds per fruit and are actually a member of the rose (rosaceae) family.
Health benefits
Strawberries are an excellent source of vitamins C and K as well as providing a good dose of fibre, folic acid, manganese and potassium. They also contain significant amounts of phytonutrients and flavanoids which makes strawberries bright red. They have been used throughout history in a medicinal context to help with digestive ailments, teeth whitening and skin irritations. Their fibre and fructose content may help regulate blood sugar levels by slowing digestion and the fibre is thought to have a satiating effect. Leaves can be eaten raw, cooked or used to make tea.
The vibrant red colour of strawberries is due to large amounts of anthocyanidin, which also means they contain powerful antioxidants and are thought to protect against inflammation, cancer and heart disease. In fact, strawberry fruit is the fourth of the fruits that are good in antioxidants.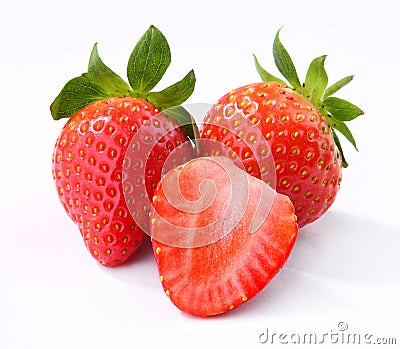 (BBC)